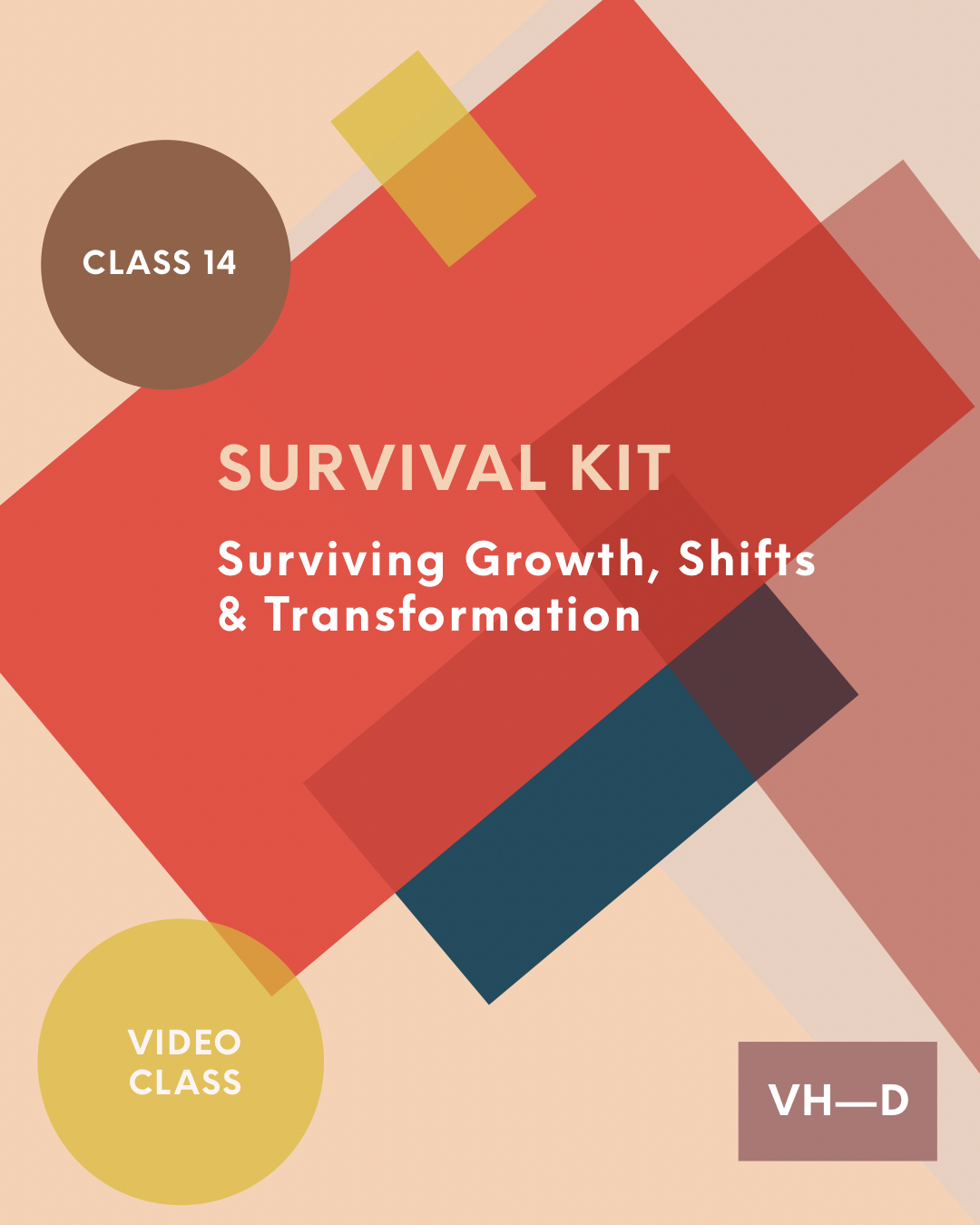 Surviving Growth, Shifts & Transformation
Surviving certain life experiences can be no joke! Until, that is you have in place a 'survival kit' to get you through, over, and beyond, to the other side. Growth, shifts, and transformation, are all essential to life (and progressing in it). Sometimes, this is accompanied by growing pains, challenges, and uncertain times.
I've learned to turn survival into an art. For one because I had to, and secondly, because I believe in the force of vibrating higher daily and journeying in power.

Spiritually speaking, all things end up working for our good. But it's a whole other thing to feel like you're thriving through periods of growth, shifts, and transformation – with purpose.
More in class!
Survival Kit
Surviving Growth, Shifts & Transformation
This video is a support system for the journey of Growth, Shifts & Transformation. These processes meet us throughout our life. Surviving them and vibrating higher as a result, is a vibrational art. And you–can master it! Woohoo! Self-hugs everybody!
Survival Kit
Surviving Growth, Shifts & Transformation
WIlderness Survival Analogies
Move in the light and Rest at night: Take advantage of the time when your energy is high. Do what you can during peak time for you. Optimize when you can. Rest and restore as to not burn out, or deplete all of your progress.

Strip away what is not serving you: Travel light! Don't carry around deadweight on the journey. Carrying around 'access baggage' weighs you down and slows you down. You'll move more efficient by letting go of what no longer serves you.

Build up your energy reserves: Store up while you can. Recharge your mind and spirit for when you need it be show up for your process. Keep in mind that the journey may be long, don't waste energy and fuel on what doesn't positively charge and fill you.

Mind care: Just like being stranded for prolonged amounts of time in the wild, the more you keep your mind sharp and focused the greater your chances of survival are. Read books, attend classes, meditate, study, exercise, play brain games, keep those neurons firing and pathways connecting!

Be resourceful: Think of alternative methods for functioning, healing, operating, being, making moves.Be open to trying new methods, places, foods, and things. Use your vibrational skills.

Find shelter: Find what makes you feel sheltered. Created a supportive and safe environment. Create sacred space to spend alone time in. Seek quiet moments and solitude to hear guidance. Guard your mind from predators: energy vampires, doubters, toxic people, people who don't get your process. You know, the usual drill.

Look for hazards: Be mindful of your surroundings and the energy around you. Move into safer space. Let go of what doesn't serve you. Be intentional of what type of vibration and energy you allow in, consume, and tolerate.

Stay hydrated: Look to what quenches your spiritual thirst. Think living water that flow deep. Stay close to what hydrates you–spirit and soul.

Be compass minded: Use discernment to gage which direction to move in. Is the path and direction serving you? Which direction are you headed in? Are you going up, hill, down hill, up stream, down stream. Follow your north star!

SOS: Know when to call out for help. Strength also looks like asking for help. The right person has the resources to help you through. If one person doesn't, keep calling out for the right one/s to show up.


Survival Kit ConTents
Nutrition-Care: Eat like you want to survive. You can't process and thrive fully eating foods full or neurotoxins, stimulants, and hormone disrupters. These wreck havoc on the mind and on the hormonal, immune, and nervous systems. Be mindful of unhealthy craving. Be mindful any rising food sensitivities or allergies. Your body may be calling for you to avoid certain foods (even some that you usually eat). And it may be asking for you to implement certain foods/herbs into your nutrition, or more of a certain food/herb you already eat/work with.

Nervous-System Care: Rest up sweet angel! And be sure pamper your nervous system! Take baths to discharge built up stress and mental heaviness. Have massage therapy or reflexology for the same purpose! Take your favorite adaptogens and caffeine-free herbal teas to fortify and thrive. Be mindful of those disrupting chemicals. Go natural. Go green :)

Vibrational Awareness: Be mindful and selective with who you share your process with. This avoids negative energy from people who are not supportive of your process, or happy for you. And it energetically protects the process. Avoid people with limited beliefs/thinking that usually seek to project and transfer their limits onto you.

Spiritual-Care: Stay anchor, rooted, and fortified spiritually. Seek higher guidance. Make time to listen to, talk, and walk with the Divine–daily.

Vibrational-Care: Do more of what centers you, balances you, and supports you in vibrating higher.

Mind-Care: Expand. Open up to the process don't contract and close off to in. Strengthen your mind through intentional methods. Be gentle with yourself. "You're doing awesome sweetie!" ;)

Battery source: Spend time in nature. Vitamin D via direct sunlight is known as one of the best healers–mind, body, soul. Have more sunlight therapy/sun exposure. Look it up! Try infrared therapy/infrared saunas when being out in direct sunlight is not as accessible.

Remember The Butterfly: Don't give up, because it's hard. Keep the process's goal in mind. You're becoming new in various ways. Survive the process. Let go of what was and become who you are meant to be. Spread your wings and fly, butterfly!

Vibrate higher!
Introspection:
Think of how fa

Where can you engage with more presence, intention, awareness, and energy in your life?

What therapeutically slows you down and makes you feel like you again?

Are you enjoying all that you have now?






Reflection:
Think of how far you've come whenever you doubt your ability and strength to carry on and get through.

Honoring the process is how you take your power back.
Affirmation
I am on a high vibrational path.
My mind and choices are are positively supporting my process.
I am being guided in the highest direction, daily.
I honor the process I am in.
I am growing, shifting, and transforming for the better.
Book I Read
Inward, by Yung Pueblo
Breath Work Teachers
Breathwork is a super supportive practice for the process.
ASHLEY NEESE:
Website: AshelyNesse.com | IG: @AshleyNeese
ERIN TELFORD
Website: ErinTelford.com | IG: @ErinTelford
Feel free to keep the conversation going in the comments section.

:)
Thanks for watching Class!
Sending You love and warm thoughts.